In May-June 2021, I traveled to Rwanda and Ghana for work with my team, a trip that I found enormously fulfilling both personally and professionally.
However, during my trip, I experienced five travel misadventures that are considerably funnier in retrospect than at the time:
I spent 30 hours in Brussels Airport
I fell through and shattered a car window
Our tire exploded at full speed on the highway
I was denied entry to the airport and missed my flight
I was rear-ended by an ambulance
I have been asked enough times about these misadventures that I decided to write them up below, together with a quick plug for my company, the reason I was on the trip in the first place.
30 hours in Brussels Airport
To travel to Rwanda, I needed to take a redeye to Brussels Airport (BRU), lay over for 6 hours, then take another quasi-redeye that arrived in Kigali, Rwanda in the middle of the night.
To make this easier on myself, I considered arriving at BRU a day early, creating a 30 hour layover instead — but leaving the airport to explore Brussels, sleep in a hotel, and then return to the airport for my second flight. Ordinarily, American citizens can do this without a visa so long as they have their subsequent flight booked.
However, because Belgium is closed to non-essential travel for COVID reasons, I had to confirm that COVID restrictions would not be an issue:
First I consulted the official Belgian guidelines, which stipulated that "transit" (i.e. layovers) was considered "essential travel" permitting entry into Belgium, and noted that no COVID test or Passenger Locator Form was required if I intended to spend less than 48 hours in Belgium.
Then I called the Belgian consulate in the US, which advised that I would be able to leave the airport, but recommended I have a COVID PCR test just in case.
Finally, I contacted the Brussels airport, which said the same as the Belgian consulate.
Having conclusively established that I would be allowed to leave customs at BRU, I booked the 30-hour layover option, got my negative PCR test, and arrived at BRU on the morning of May 28.
I was not allowed to leave customs at BRU.
The customs agent was very sympathetic. He agreed that ordinarily, this would be no issue at all — but pointed out that during COVID, only essential travel was permitted. He agreed that transit was considered essential travel — but noted that unlike the other forms of essential travel, this one was limited to the airport. He agreed that this limitation was neither written in the rules nor communicated to me by the consulate, and that had I been transiting by train to my final destination he would have allowed me out of the airport and to the train station — but observed that I was not doing so. And finally, he was particularly sympathetic that to the extent this was a COVID limitation, my PCR test plus vaccination ought to be sufficient to dispel any concerns, but reiterated that he was unable to let me through.
He concluded by suggesting I try contacting the Belgian Home Office, who would be able to "assist" me.
The Belgian Home Office was very sympathetic and agreed I should be able to leave. However, they explained they were not the right ones to assist and suggested I try contacting the US Embassy in Belgium.
The US Embassy in Belgium was very sympathetic and agreed I should be able to leave. However, they explained they were not the right ones to assist and suggested I try contacting the Belgian immigration office.
The Belgian immigration office was very sympathetic and agreed I should be able to leave. However, they explained they were not the right ones to assist and suggested I try contacting the Belgian consulate in the US again.
The Belgian consulate in the US was very sympathetic and agreed I should be able to leave, but explained that they could not overrule the customs agent. They suggested I ask the agent if I could at least stay in the airport hotel.
The customs agent was no longer sympathetic. The airport hotel, he explained, was across the street from the airport, and therefore counted as leaving the airport, which I was not allowed to do. And the fact that all of those sympathetic individuals refused to "assist" was proof that he had made the correct decision and he was not interested in hearing from me any more.
This left me in a vaguely Kafkaesque quandary. I had deplaned into a small transitional area where my only options were to exit through customs or to go through security to the connecting terminal. But I couldn't exit through customs, and I couldn't go through security because I didn't yet have my boarding pass for my next flight (since it wasn't within 24 hours).
The security agent was not sympathetic. He agreed that I was stuck in no man's land, but suggested that I make the most of it. It was not until I observed to him that no man's land also appeared to be no bathrooms land, that a look of concern crossed his face and he left to speak to a supervisor. Shortly thereafter he returned and informed me that I would be permitted to enter the connecting terminal, but not leave it (even to another terminal).
It turns out that I was connecting through Terminal B, which had few amenities but made up for it by hosting multiple nice lounges that provided a relaxing environment with lounge chairs and couches, free food and alcohol, Wi-Fi, showers — i.e., a place where one might very pleasantly spend 30 airport hours.
The only catch was that all of these lounges were closed for COVID reasons. (They reopened a week later.)
Terminal B had exactly one restaurant, serving exactly two items: burgers and fries. As an avid fan of both burgers and fries, I decided to save it for dinner, and snack in the interim. A large sign indicated that the restaurant would be closing at 6pm for COVID reasons. Naturally, the restaurant closed at 1pm before I had a chance to order. ("COVID reasons", the staff told me, unsympathetically.)
So, subsisting on snacks and duty-free chocolate, and inspired by Tom Hanks, I wandered the halls of Terminal B and eventually found a nice section of the terminal with couches. I pushed two couches together ("upgraded to a double") and bivouacked for the night, claiming a nearby restroom to change and brush my teeth: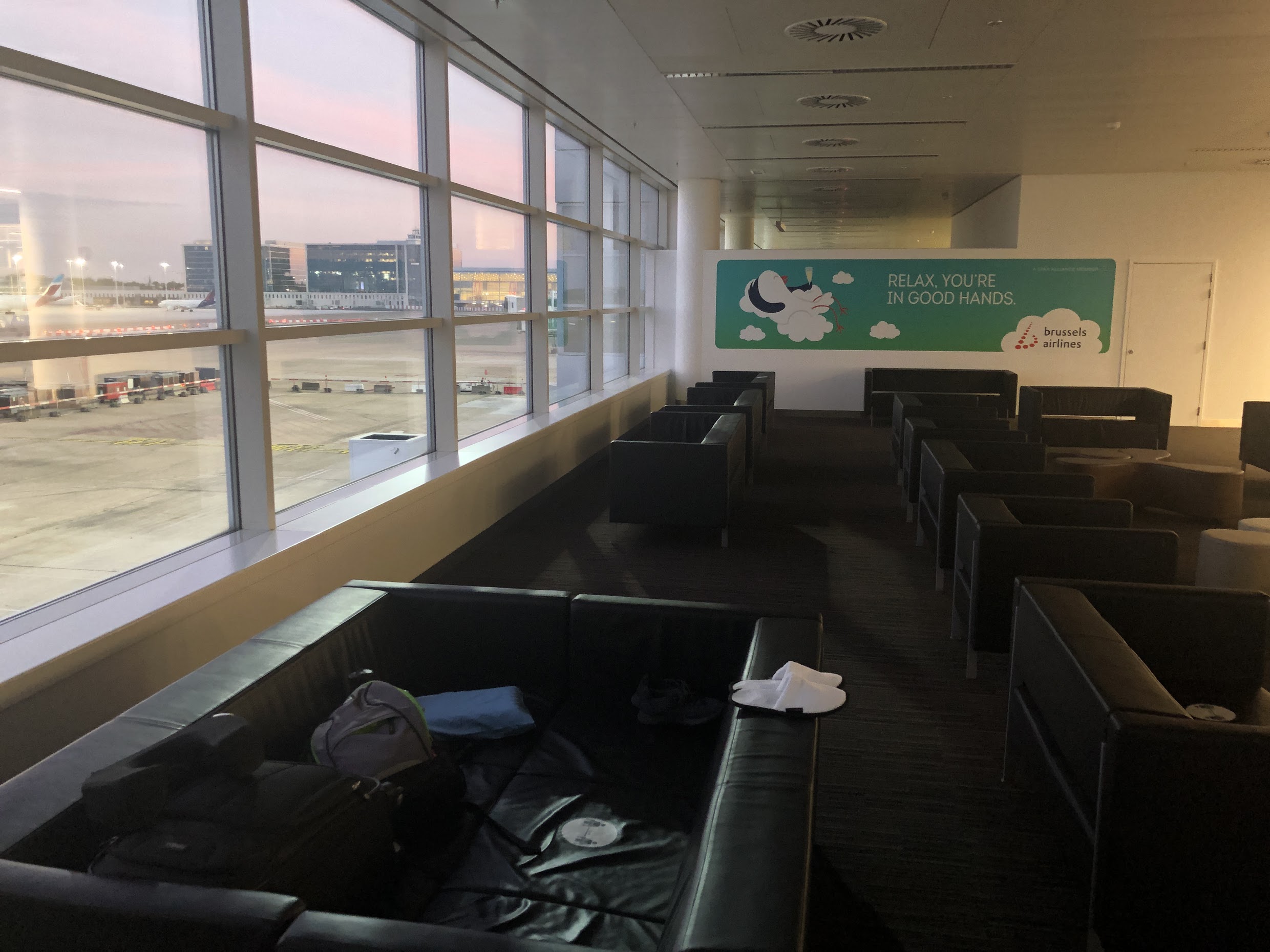 I slept surprisingly well. In the morning, I greeted my coworker (she had chosen the 6 hour layover option), who had heard what happened to me and hoarded me extra snacks. And before I boarded my flight to Kigali, I made sure to go back to the Terminal B restaurant and revenge-order the burger and fries.
They were awful.
Falling through and shattering a car window
Towards the end of our Rwanda stay, seven of us decided to go to Akagera National Park. We hired two tour cars to drive us through the park to see wildlife. The tour cars looked like this (not us pictured):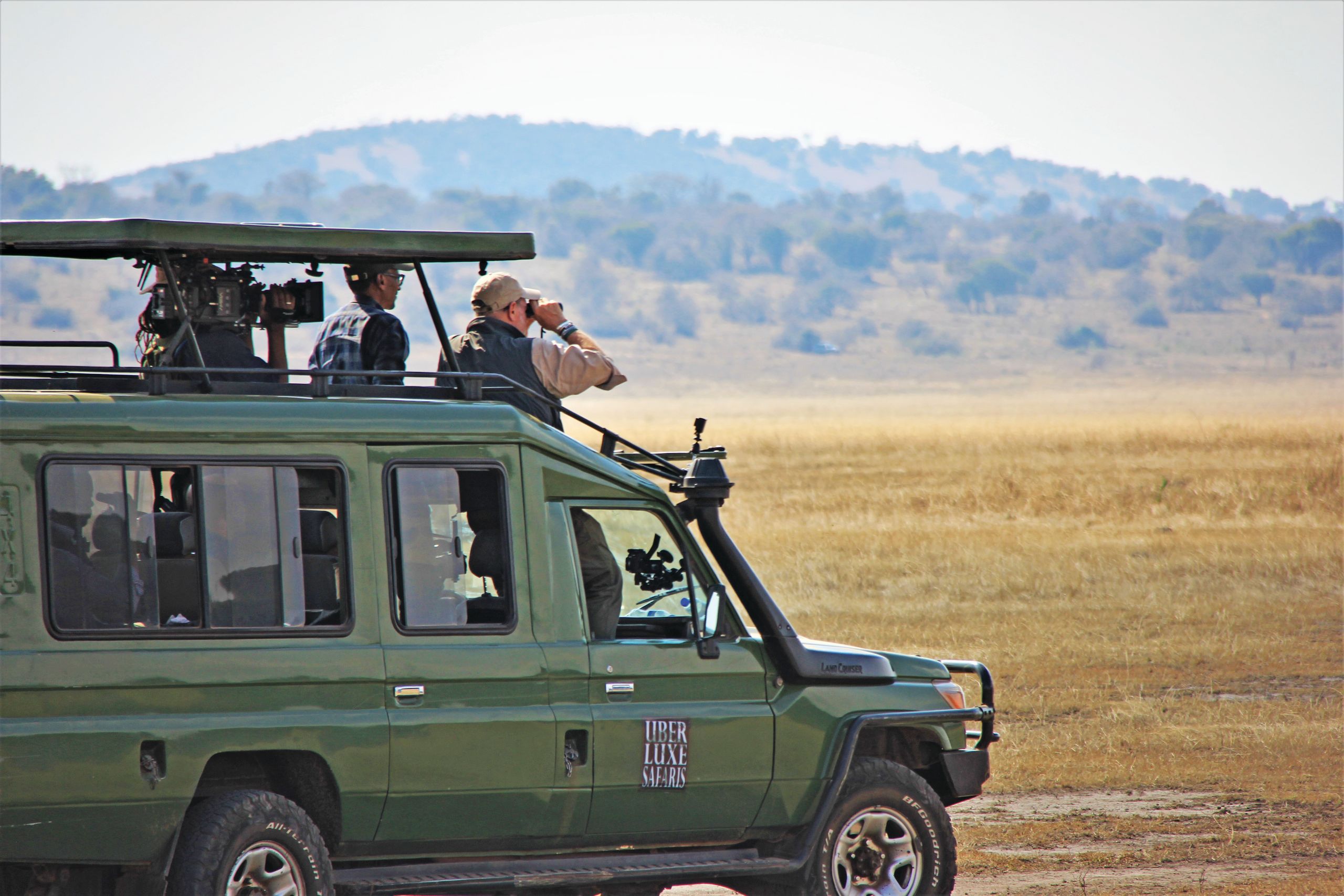 They are designed that way because, among other reasons:
The unpaved roads in Akagera National Park are very bumpy
You want to be able to stand up and look around to see the wildlife
At one point in the trip, those two coincided for me. That is, I stood up right as the driver hit a gigantic bump. I fell, smashing into and through one of the tour car windows, sending glass all over the car and into my back.
My coworkers, in a remarkable display of workplace team building, picked the glass out of my back, wiped off the blood, and gave me a change of clothes. Lacking any Neosporin, they also sprayed my cuts with hand sanitizer, which proved to be an effective, if agonizing, alternative.
Exploding tire on the highway
We had a blowout on the way back from Akagera — a very prosaic way of saying our tour car's tire exploded at full speed on the highway: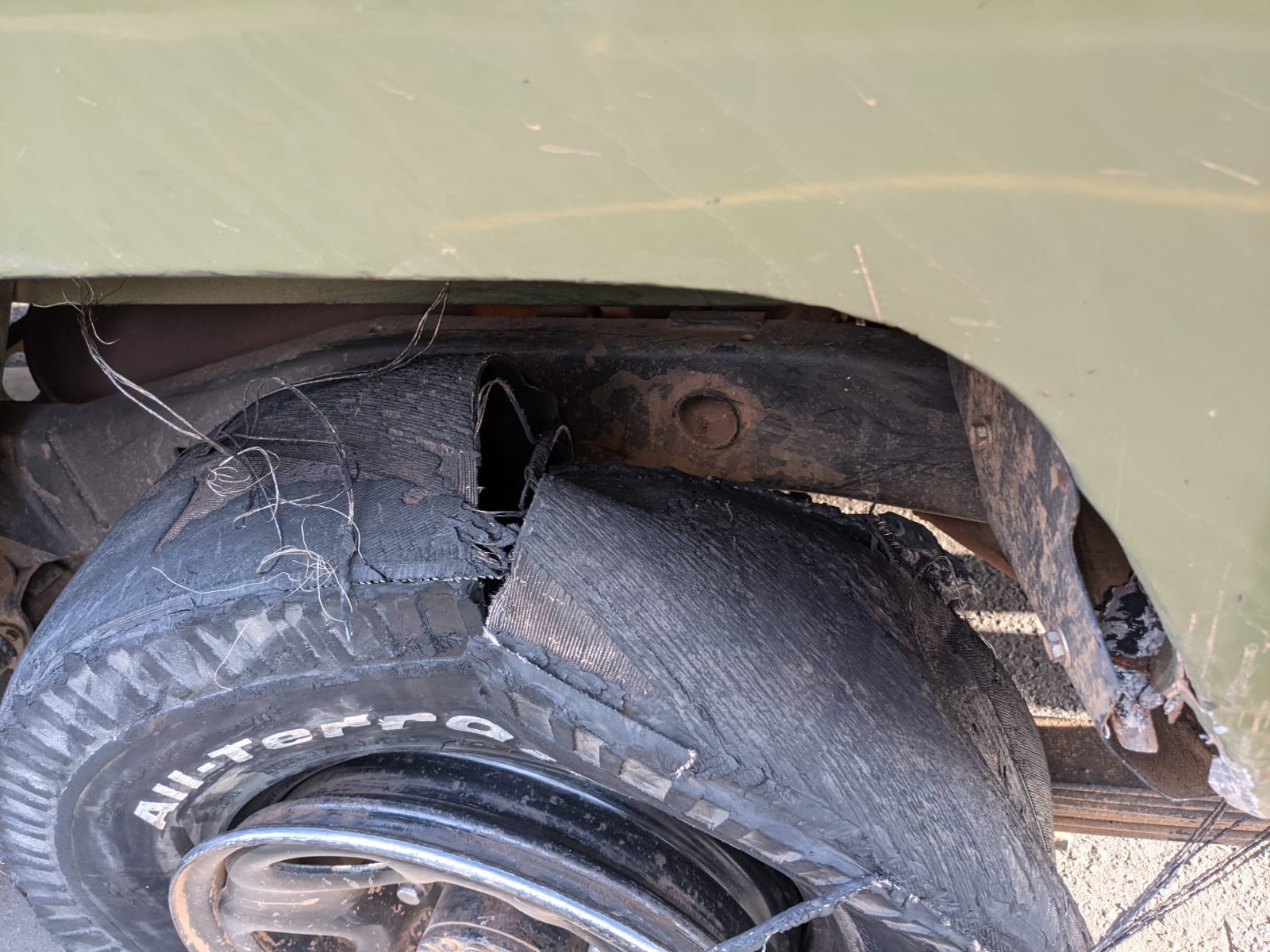 We were very fortunate — while the highway is ordinarily crowded with cars, bikes, and pedestrians in all directions, our driver was able to quickly and safely pull over and stop the car, despite the fact that the rim was grinding and sparking on the ground.
Quite a crowd gathered to see the spectacle. We entertained the local kids for a while, before the second tour car came by and picked us up to go back to Kigali.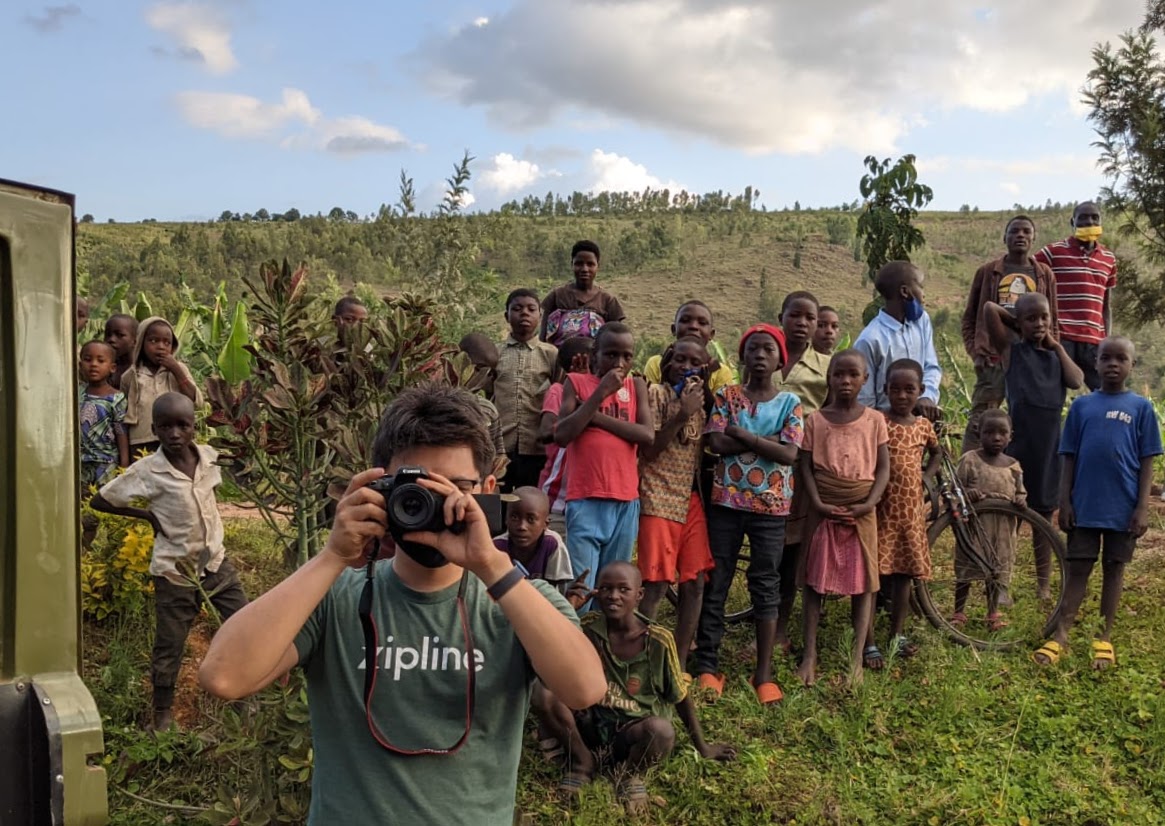 We gave our original driver a generous tip, and confirmed later that he successfully made it back to Kigali on the spare tire.
It was only later that we realized, to no one's surprise, that the tire that had blown out happened to be the tire I was sitting over.
Denied entry to the airport
After Rwanda, the team prepared to fly to Accra, Ghana on Monday, June 7.
Unusually, Rwanda requires all departing travelers to have a negative PCR test result within 72 hours of departure. Accordingly, the entire team took a COVID test on Saturday, June 5.
The results were ready on Rwanda's COVID test results portal the next morning, and, at our request, our hotel downloaded and printed all of them out for us. We brought the test results to Akagera National Park, where everyone's test results were accepted.
The next day, we brought the test results to the airport, where everyone's test results were again accepted — except mine. I would not be allowed to board my flight with my teammates.
It turns out that everyone's June 5 test had been processed successfully — except for mine. Uniquely, my test had been lost and its results were never uploaded into Rwanda's COVID test results portal.
Instead, when the hotel looked up my COVID test records, they were provided with (and printed out) my then-still-valid June 3 test result. (I took a lot of COVID tests in Rwanda.) Nor did I notice that I had the wrong test result — especially since I successfully used it that day for Akagera. But of course, a June 3 test would not work for a June 7 flight, because it was taken 4 days ago and not 3 days ago.
So I stood there alone, valiantly trying to explain my situation to the airport agents, as the rest of the team could only watch me from inside the airport.
The airport agents were very sympathetic. After all, I showed them my receipt paying for my June 5 test, and therefore it stood to reason that I should have had a June 5 test in the system. And my four other negative test results in Rwanda (including one from four days ago) plus my vaccination established a persuasive case as to the outcome of that missing test. But without a physical result in hand from June 5, the agents explained, they had no choice but to deny me entry to the airport.
So I missed the flight, and was left behind by the rest of the team. My options to rejoin them were as follows:
Fly to Accra, Ghana later on Monday, on a 22-hour flight that involved layovers in Bujumbura, Burundi and Addis Adaba, Ethiopia.
Fly to Accra, Ghana at 2am on Tuesday morning, on a 12-hour flight that involved a layover in Addis Adaba, Ethiopia.
Fly to Accra, Ghana at 9am on Wednesday morning, on a 5-hour direct flight.
My boss very kindly agreed that given my travel misadventures thus far, option 3 was probably best.
I subsequently enjoyed two very pleasant days by myself in Kigali, which is by far one of the cleanest cities I've ever visited.

Rear-ended by an ambulance
Several days later in Accra, a few of us were in a coworker's car, stuck in literal bumper-to-bumper traffic, when we heard an ambulance siren behind us. As we slowly began to move aside to try to create passage for the ambulance, one of us commented on how banged up the ambulance seemed to be: it was covered in dents and scratches.
We soon found out why. As the ambulance made its way up to us, it was physically bumping and pushing cars out of its way. We were no exception — the ambulance rear-ended and side-swiped our car (the corner of the car I was sitting at, naturally) as it forced itself through the gap that it decided we were creating too slowly.
Thankfully, neither we nor our car was seriously hurt. And upon subsequent reflection, we agreed that if any of us were in an ambulance, we too might appreciate such single-minded focus on getting to a hospital as quickly as possible.
Why was I in Rwanda/Ghana?
I work at Zipline, which operates nationwide autonomous medical drone networks in Rwanda and Ghana that provide on-demand access to blood, vaccines, and other lifesaving medical supplies to rural hospitals serving 25 million people. Today, over 85% of all blood used in Rwanda outside the capital is delivered by a Zipline drone.